Choosing a wedding limo in Philadelphia is not an easy choice, but it is one of the most important choices you will make when it comes to your wedding day. The team at Philadelphia Limo Rental is here to help you every step of the way and we specialize in wedding limo rentals and providing you with the transportation services you need.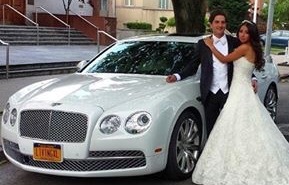 We have the experience needed to ensure that your day is a success and that everyone from the wedding party arrives on time and in style. You do not want to cut corners when it comes to transportation and we have the skills needed to make everything go smoothly. We offer a variety of wedding packages that will accommodate parties of all sizes. In addition to our packages, we have one of the largest wedding limo fleets in all of Philadelphia.
Our selection of vehicles range from luxurious sedans all the way to exotic and vintage models. We are confident that we have the perfect vehicle for your wedding. We will do whatever it takes to put a smile on your face.
If you would like to reserve a wedding limo in Philadelphia, now is the time to call our office at (215) 278-8279.
Special Wedding Limos in Philly
Now that you have picked out the Maid of Honor, the dress, and the venue, it is time to leave the worry of transportation to us. We will eliminate the stress you have been holding onto. We are here to make sure everything goes smoothly and that you and the bridal party arrive on time.
Each one of our drivers is professional, courteous, and dressed properly to ensure you receive the best services locally. We take the time to check all of our employees and verify that they are able to provide you with the flawless services you deserve on such a special day.
We have a knack for being perfectionists and will detail all of your wedding transportation for you. Our limos will arrive on time and clean on both the inside and outside. We know how important appearance is and we will not let anything slip by us.
One of the things that sets our services apart from the competition is that we offer you all of the amenities you could ever need inside of our limos. You will find everything from a CD player with a sound system to ice buckets, a cabin partition, TVs, and much more. We do everything we can to make sure this day is one to remember.
Reserve Your Philadelphia Wedding Limo Today
Whether you want to have a vintage classical wedding or a traditional one, we have a wedding limo in Philadelphia that will complement it. Our options are endless! If you would like to reserve your wedding limo now is the time to do it. Call Philadelphia Limo Rental now at (215) 278-8279 and one of our team members will help you.